Automation of
SAP Transport Management
SAP transports simply automated
The Transport Management module of REALTECH SmartChange automates SAP software deployments in complex SAP landscapes. It ensures simple, fast and risk-free import of SAP transports from the development system to the respective target systems.
REALTECH SmartChange can be implemented within a few days. It is simple to configure and easily scalable.
Central management of SAP transports
Users have a central interface for monitoring change processes and approving SAP transports. This allows you to accelerate your processes significantly.
Automate SAP Change Processes
Import, review and release SAP transports thanks to designated target routes and predefined release and approval workflows. For maximum automation – even in hybrid SAP S/4HANA system landscapes.
Integrated quality checks
Through extensive automated quality checks, SmartChange prevents typical risks for productive SAP systems. This proactively counteracts downtime caused by faulty SAP transport processes.
Integration in ITSM Tools
The Integration Framework allows you to easily integrate SAP transport processes into your ITSM tool (e.g. REALTECH, Jira or ServiceNow). This enables efficient end-to-end change processes.
SAP S/4HANA certified, of course
SmartChange is fully certified for use under SAP S/4HANA.
For reliably automated SAP transports before, during and after migration.


Audit security included
SmartChange's integrated reporting environment with extensive configuration and drill-down capabilities provides reports down to the object level. This means that all SAP changes are automatically documented in an audit-proof manner.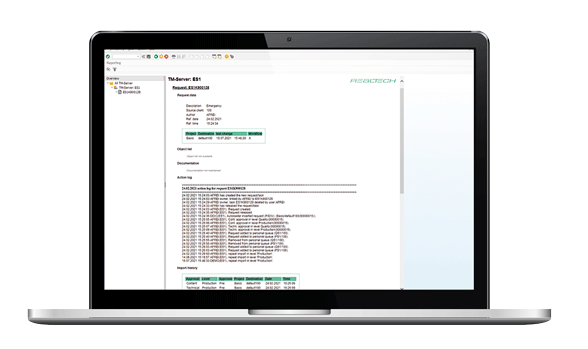 Avoid risks, reduce workloads, automate documentation
By automated prevention of potentially dangerous transports, you can avoid rework and system failures. Clearly defined workflows and processes reduce coordination and testing efforts. At the same time, compliance requirements are taken into account.