Success Story Migros
Nearly 25,000 Transport Orders Processed with REALTECH Software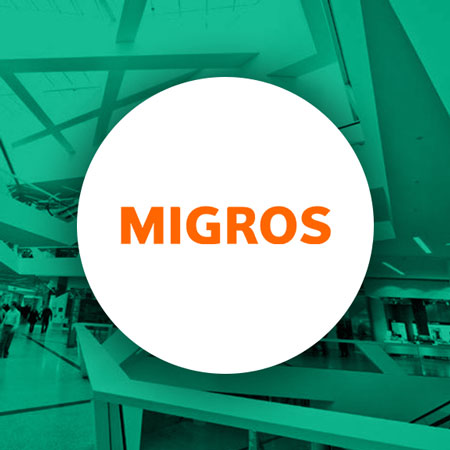 Before the automation of the SAP transport system, half a man-day was needed every day to manually check and import the transports into the three SAP system landscapes "FICO", "SUS", and "RETAIL" with approx. 80 clients. A team of four employees from Migros Aare's SAP Basis administration individually divided up the processing of the more than 2,000 SAP transports that occur annually.
Manual processing proved to be very error-prone. In addition, the resources tied up by this were not available for important IT projects. As the system landscapes at Migros Aare grew in size, the need for an automated Transport Management solution increased.
When Migros Aare was looking for a suitable software solution to automate SAP transport management, two products were shortlisted: SAP Solution Manager and REALTECH Transport Management.
The decisive factor in Migros Aare's decision was a reference visit to REALTECH's customer Antalis AG.. This Swiss company has already been using REALTECH Transport Management successfully for years in a comparable environment.
The functional scope of REALTECH Transport Management met all of Migros Aare's requirements and the ROI that could be expected in the short term also spoke in favor of the REALTECH solution.
The implementation of REALTECH Transport Management went quickly and smoothly. Within just three working days, the software was productive on the three SAP system landscapes "FICO", "SUS" and "RETAIL".
REALTECH Transport Management has significantly simplified the day-to-day work in Migros Aare's SAP Basis administration. Today, one hour per week of personnel resources is sufficient for SAP transport management.
Only for emergency transports additional resources of 1 to 2% are kept available. The remaining time can now be used for IT projects. Since REALTECH Transport Management was introduced in 2005, the IT landscape at Migros Aare has grown to six SAP system landscapes. Without REALTECH Transport Management, a full-time SAP Basis administrator would be busy manually processing SAP transports.
In the most recent expansion of the system landscape for the "Globus" stores (a further six SAP systems), approximately 6,250 transport requests ("BW" and "RETAIL") have already been automated using REALTECH Transport Management since its introduction 1.5 years ago. In total, almost 25,000 transport orders have been processed with REALTECH software here to date. Thus, the investment in REALTECH Transport Management has paid for itself within a very short period of time at Migros Aare through the labor costs saved alone.
MIGROS
Migros Aare is the largest of all ten regional cooperatives of MIGROS. The cooperative, which is based in the Swiss cantons of Aargau, Solothurn and Berne, has over 200 supermarkets and specialist stores, including Europe's most modern shopping and leisure center: "Westside" in Berne.
The introduction of SmartChange Transport Management has proven to be 100% worthwhile for us. The investment in the REALTECH software paid for itself within a very short time through the saved labor costs alone. These saved resources can now be used specifically for IT projects.
Thomas Kräuchi, SAP Basis Team, Migros Aare