CMDB Integration in SAP Solution Manager
This makes working with SAP Solution Manager for your IT support an easy task!
Imagine: The IT supporter receives all the information he needs to analyze the tickets. Data across the entire infrastructure (SAP and non-SAP) is linked and made easily accessible. Using meaningful graphical relation overviews, the supporter can view related information at the touch of a button.
The result: faults that occur are resolved as quickly as possible and business-critical processes no longer run out of control due to excessively long support processing times. Would that be an ideal scenario in the service desk?
Discover our solution that provides relevant information for ITSM processes in SAP Solution Manager.
The increasing complexity and dynamics of today's IT landscapes is becoming a rising problem as resources in IT become more and more scarce. For example, the current lack of skilled workers makes it necessary to be able to solve problems as quickly and efficiently as possible so that support staff are not held up for too long with individual cases.
In this context, access to a large and complete database is essential for efficient support. However, IT support staff who rely on SAP Solution Manager data for their incident management or problem management can quickly reach their limits.
This is because a lot of additional information is often required to process tickets correctly, which SAP Solution Manager cannot map. This can involve information in the SAP landscape as well as systems outside the SAP landscape. In addition to IT infrastructure (servers, PCs/notebooks, printers, virtualization, network devices, smartphones, tablets, etc.), this can also include components that are now the focus of IT support or enterprise support as part of digitization. In retail, for example, cash registers, scales, refrigeration equipment, and in industry actuators/sensors, robots or machines are important.
The integration of REALTECH CMDB into SAP Solution Manager
In order to be able to view all the information required to resolve a ticket in one place, the integration of a powerful and comprehensive CMDB in SAP Solution Manager can be the key for quick access to the required information.
Because in this way, SAP Solution Manager can be used as a comprehensive ITSM tool for the entire IT: The integration provides the user with a transparent database that comprehensively maps both the non-SAP systems in the SAP landscape and the rest of IT.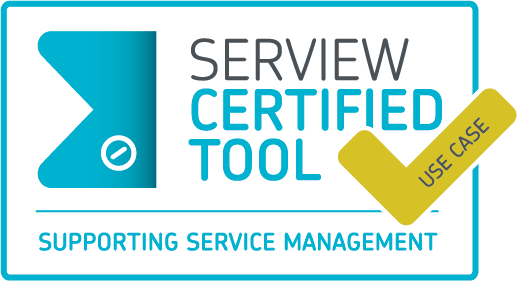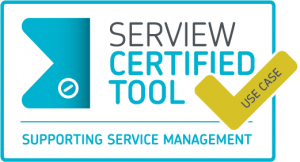 At the same time, the workload for support staff is significantly simplified and reduced, as all the information they need is conveniently available to them via the SAP Solution Manager interface. (The Use-Case CMDB Interface for SAP Solution Manager has been Serview certified since 2020).
Higher quality in IT service management
At the same time, the quality of IT service management is also increased – because based on the CMDB integrated in SAP Solution Manager, it becomes possible to integrate and manage configuration data easily and validly from different data sources. This leads to higher satisfaction of customers, whose problems can be solved faster and, if necessary, more precisely.
These features make the CMDB the central work tool that not only enables efficient and fast processing of tickets, but also provides an ideal overview of all necessary data while improving the quality of work results.
What concrete added value can a CMDB integrated into SAP Solution Manager offer you?
You receive a reliable information basis in Incident Management or other ITSM processes and thus have access to all relevant information
You can map the asset lifecycle process completely and clearly
"How many employees use a server?", "How many Surface devices are in use?": You will find an answer to these and many other questions immediately
Through the standardization, automation and digitization that comes with implementation, you create highly efficient processes with a CMDB
Rapid implementation with fast added value
Due to the increasing shortage of skilled personnel, the implementation of a CMDB appears at first glance to be a tedious process – this makes for a high inhibition threshold when deciding to incorporate a new CMDB. In order to solve this problem in a practical way, REALTECH takes care of a short-term, rapid implementation without burdening internal resources, as a result of which the added value of the CMDB becomes clearly noticeable in a short time.